Actor Chris Pratt this week reflected on a much-discussed faith-centric speech at the 2018 MTV Movie & TV Awards, saying he "wouldn't change a thing."
A professing Christian who has been featured in blockbuster movies, Pratt went viral in August 2018 for a speech while accepting the MTV Generation Award. Pratt listed "nine rules" for life during the brief monologue – some jovial, some serious.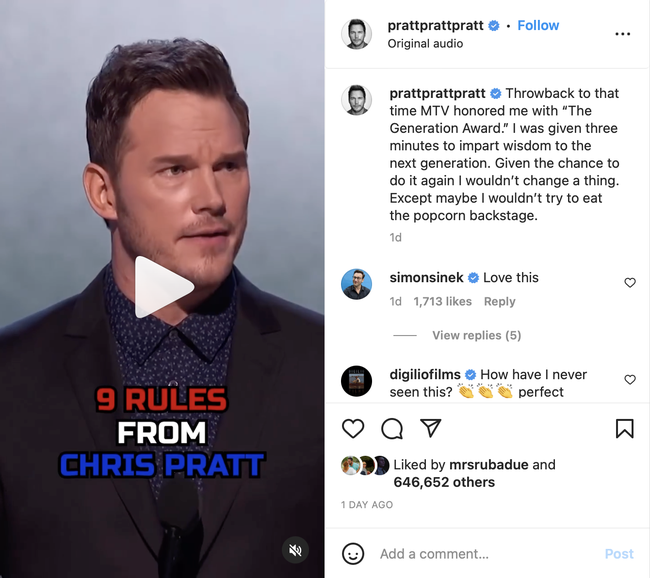 "God is real. God loves you. God wants the best for you. Believe that – I do," Pratt said in 2018, listing one of his rules.
"You have a soul. Be careful with it," he said of another rule.
On Tuesday, Pratt posted a video of the speech on his Instagram page and said he stands by it.
"Throwback to that time MTV honored me with 'The Generation Award.' I was given three minutes to impart wisdom to the next generation," Pratt wrote. "Given the chance to do it again, I wouldn't change a thing. Except maybe I wouldn't try to eat the popcorn backstage."
His 2018 speech even referenced Christ's atoning death.
"People are going to tell you [that] you're perfect just the way that you are," he told the audience. "You're not. You're imperfect. You always will be, but there is a powerful force that designed you that way, and if you're willing to accept that, you will have grace. And grace is a gift. And like the freedom that we enjoy in this country, that grace was paid for with somebody else's blood."
He later told the Associated Press about the speech, "It's authentic for me to be pro-Christian, pro-Jesus. That's my thing. I like it."
Pratt is known for his roles in the Jurassic World, Guardians of the Galaxy and Lego Movie series. He also appeared in Avengers: Endgame, Avengers: Infinity War and Thor: Love and Thunder.