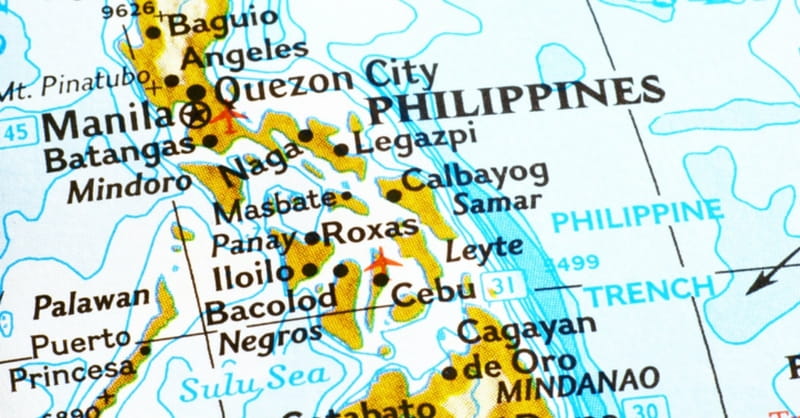 An ascendant terrorist group in the Philippines that has pledged allegiance to the Islamic State (IS) yesterday wreaked violence on the island of Mindanao, kidnapping a catholic priest and 13 members of his parish.
Soldiers engaged in firefights with the Maute Group (MG) in Marawi City as its militants reportedly beheaded a police chief, kidnapped the priest and others, burned their cathedral and other buildings and raised the black flag of IS. Marawi is predominantly Muslim.
Authorities identified the abducted priest as the Rev. Teresito "Chito" Suganob, vicar-general of the prelature of Marawi, who was at St. Mary's Cathedral when a group of armed men barged in and abducted him and 13 other parishioners. Reports indicated 10 worshippers and three other church workers were abducted.
Suganob is well-known in Marawi, in Lanau Province, and parishioners appealed for prayers using social media.
Facebook user Maychal Gabonada wrote in the local dialect, "I pray for their safety, especially Father Chit. He is a kind parish priest who is very close to our family."
A spokesman for the Catholic Bishops Conference of the Philippines appealed to the kidnappers in news reports, saying the priest "was not a combatant and was not bearing arms, so he was a threat to no one…His capture and that of his companions violates every norm of civilized conflict."
Besides the cathedral, the assailants reportedly burned down three buildings of Dansalan College, which belongs to the Protestant United Church of Christ.
Prior to Tuesday's violence, police backed by Philippine soldiers in Marawi raided the hideout of suspected Islamic terrorist leader Isnilon Hapilon. The Maute Group on Tuesday (May 23) subsequently killed at least two soldiers and beheaded a policeman they had stopped at a checkpoint. Hapilon, a commander of the Islamic extremist Abu Sayyaf militant group, has a US$5 million reward offered by the U.S. State Department for information on his whereabouts.
"We are in a state of emergency," President Rodrigo Duterte said today after flying back to Manila, having interrupted a trip to Moscow. "I have a serious problem in Mindanao, and the ISIS footprints are everywhere."
Duterte said the report of a police officer's mutilated body strengthened his resolve to declare martial law for 60 days in Mindanao, expanding the military's power to detain suspects without charge. He said he may declare martial law nationwide if authorities confirm that IS is involved.
The sounds of gunfire caused the public to panic, and thousands fled Marawi City towards Iligan City and Malabang Municipality. Khye Amerol, who fled to Malabang, said that even though the military claimed that calm has been restored to Marawi, he had to leave for fear of stray bullets, according to the International Business Times. The mass evacuation caused traffic congestion from late morning to evening.
Clergymen have often become hostage victims of local terrorist groups operating in the southern Philippines. Last week Islamic extremists threatened Muslim preachers about to participate in an anti-terror summit organized by the Autonomous Region in Muslim Mindanao (ARMM). An ARMM official received an email from a local terrorist group ordering her to discourage Muslim leaders from attending the summit. The summit ended peacefully on Friday (May 19).
Maute Group
The Maute Group is one of the newest but most feared terror groups in the southern Philippines; it became better known in November last year when members raided Butig town in Lanao del Sur and raised an IS-similar flag in the town hall. MG engaged government soldiers, and since then the administration has not taken the group lightly.
Based in Central Mindanao, MG, locally known as the Islamic State in Lanao (ISIL), was founded by brothers Omar and Abdullah Maute and originally had an estimated 100 members. Intelligence reports indicate that they have joined forces with other terror groups operating in the southern Philippines.
A number of the MG militants are erstwhile members of the Moro Islamic Liberation Front (MILF), the largest Islamic revolutionary group, which has entered into a peace talks with the government. The military is expected to face a complex challenge as MG members are married to relatives of MILF militants now finalizing a peace pact with the government.
Moreover, the Philippine military has also arrested suspected members of MG who were responsible for the September 2016 bombing of a Davao City night market that killed 14 people. Davao is the hometown of Duterte.
Poverty in impoverished areas in the southern Philippines has contributed to ordinary civilians willing to fight the government. Feeling excluded, militant and revolutionary organizations in Mindanao would like to establish an autonomous government.
If you would like to help persecuted Christians, visit http://morningstarnews.org/resources/aid-agencies/ for a list of organizations that can orient you on how to get involved.