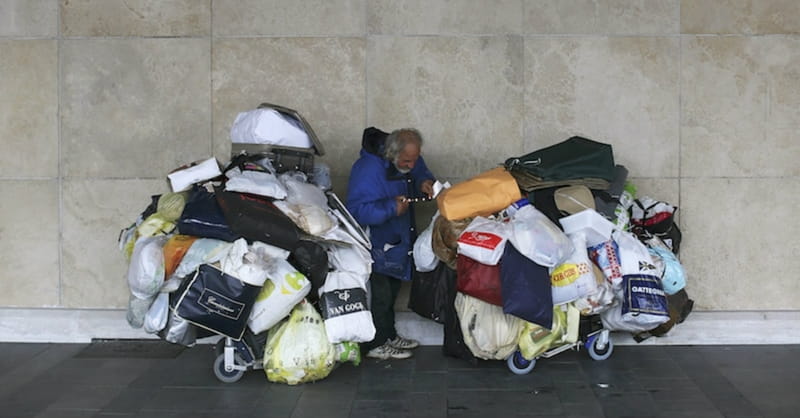 David Gushee | Religion News Service | Thursday, July 13, 2017
Mentally ill and homeless people wander into the church that I pastor on Sunday mornings, and I don't know the best way to handle it.
There, I said it.
I am going to be gut-honest in this little reflection and will admit my own uncertainty and discomfort. This will risk incurring the wrath of everyone who has figured it out. But maybe I can get some helpful crowdsourcing insights here.
First, a bit of context. My church is in urban Atlanta. We are near enough to an Atlanta metro stop that it is easy for people to find their way to our church building from the subway. This is really important.
We also offer benevolence ministries during the week, so lots of very needy, homeless and sometimes mentally ill people are in our building regularly.
We all have a script for these encounters. They seek help, we offer it, then everyone goes on with their day.
But I am talking about Sunday morning. We don't offer any assistance on Sunday morning. We offer worship services and Sunday school classes.
Our first service is quite casual and is held in our fellowship hall. Our second service is more formal and takes place in the sanctuary. The guests I speak of rarely come to the second service, but almost every week they are in the first.
You can spot homeless people very quickly. They carry more bags than other people, their clothes and faces are worn, and they often do not smell very good. Sometimes our worship service seems to be a resting place for them in their weary sojourn. Other times they seem fully engaged.
The mentally ill are sometimes part of the homeless group, and sometimes not.
We have a visitor these days who comes in anywhere from one hour before the service starts until 10 minutes before it ends. He looks pretty normal but as soon as you speak with him you can tell he's not right. His words come out in a jumble, largely incoherent. The different sentences don't add up. He periodically interrupts the person speaking at the platform. He gets up and wanders randomly. He is here, then he's gone, then he's back. He makes people uncomfortable.
Imagine you're me, trying to grow our church, attract college students, young professionals and young families, and orchestrating a carefully planned worship service. In a room with about 100 people in it, a family with young kids walks in and ends up sitting right behind the reeking man from the street. A young couple arrives over in another section and ends up in conversation with the scary incoherent man. Not exactly the plan. But should it be? Can full "integration" occur across these axes as well as others that we have already managed?
You send the visiting family off to a Sunday school class and, wouldn't you know it, the same cast of characters is in the room. All of this leads to a better than average chance we will never see those visitors again.
I don't fully understand why there are so many homeless and/or mentally ill people wandering the streets of urban America. I do know it is a great tragedy and involves huge breakdowns of our mental health system, our economy and our society as a whole.
I understand that from a theological and moral perspective all lives are equally valuable, all persons equally precious to God, and I should be as glad that homeless and/or seriously mentally ill (if harmless) people are in our seats as I am with young professionals. Right?
And I do fully understand that every urban area in America has a wandering army of homeless and/or mentally ill people. Do all churches find them in the pews on Sunday morning? What do other churches do about the discomfort that they create? How come I never seem to see them in the big megachurches?
I don't know much, but I do know this. I am going to have to lean in on this one, more than I might have ever wanted. I am going to have to study this social problem more thoroughly. I am going to have to personally engage our wanderers so that I might learn who they are, what they need, and if possible, how to help them. How to love them.
Your ideas are welcome.
---
Courtesy: Religion News Service