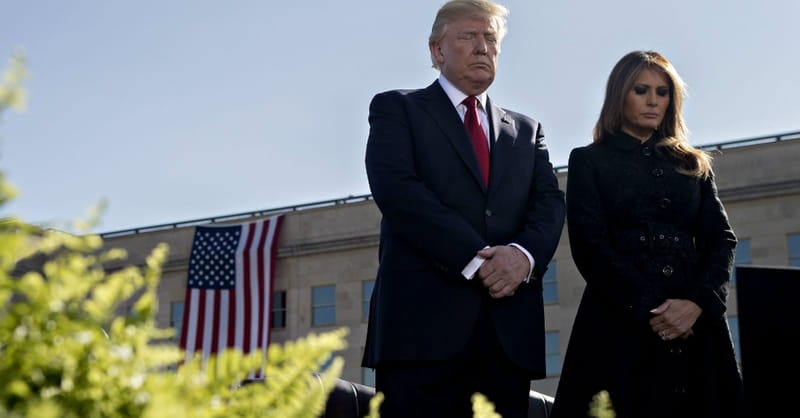 Today marks the sixteenth anniversary of the horrific 9/11 terrorist attacks. Over 1,000 people gathered at the Ground Zero Memorial in New York City to mourn the victims and honor their lives.
ABC News reports that one man who stood at the Memorial today is Rob Fazio. Fazio's father was one of nearly 3,000 people who died in the attack.
"I'll come every year for the rest of my life," he said. "It's where I get my strength."
So many other expressed similar sentiments.
Those gathered at the Memorial in New York City observed a moment of silence, as did native New Yorker President Trump and First Lady Melania Trump at the White House in Washington D.C.
The White House ceremony was scheduled for about the same time as when the plane struck the Twin Towers on the morning of September 11, 2001, according to CBS News.
At another memorial held at the Pentagon, the President stated, "We are one country and when we face hardship we emerge closer, stronger and more determined than ever."
He also told families of 9/11 victims: "We can never erase your pain or bring back those you lost, we can honor their sacrifice to pledge our resolve to do whatever we can to keep our people safe.
The terrorists who attacked us thought they could incite fear and weaken our spirit, but america can not be intimidated and those who try will join the long list of vanquished enemies who dare test our mettle."
---
Photo: U.S. President Donald Trump (L) and first lady Melania Trump attend a ceremony to commemorate the September 11, 2001 terrorist attacks at the Pentagon September 11, 2017 in Washington, D.C. Trump was presiding over his first 9/11 commemoration on the 16th anniversary of the terrorist attacks that killed nearly 3,000 people when hijackers flew commercial airplanes into New York's World Trade Center, the Pentagon and a field near Shanksville, Pennsylvania.
Photo courtesy: Andrew Harrer-Pool/Getty Images